Presentations
Provide an experience.
One of our specialties is designing (and writing) Microsoft Power Point presentations for conferences and trainings. Our designs have appeared at large conferences, non-profit galas & events, yoga teacher trainings, online and live workshops. Our presentations have been on many walls!
We feel these are important aspects to the design of any PPT presentation:
simple, easy to read
consistency across slides with design, layout, fonts and colors
open and spacious, plenty of white space around the elements
standard fonts (and Google fonts) - when the file is transferred to another computer, the fonts won't default
---

Let's tell a story
The Process
Title Slide
The first thing we do is establish the brand and design standards for the entire file. Colors and fonts are chosen. It is recommended that you use a transparent PNG file for your logo. We then choose artwork to support the look of the presentation and do the title slide layout. This is always the most beautiful slide.

Internal Slide Template
A standard internal slide is chosen and the design standards from the title slide are applied. This is the template that will be applied to the rest of the slides. If there are multiple standard slides, a design template is created for each one.

Roll-out
Once the title slide and all of the templates are approved, the styles are rolled out to the rest of the presentation. Unique non-standard slides are adjusted according to the styles as well. While working on the presentation, we fix any typos, spellings, etc upon your request.
Yoga and Ayurveda
Pre-made and Custom Workshop Presentations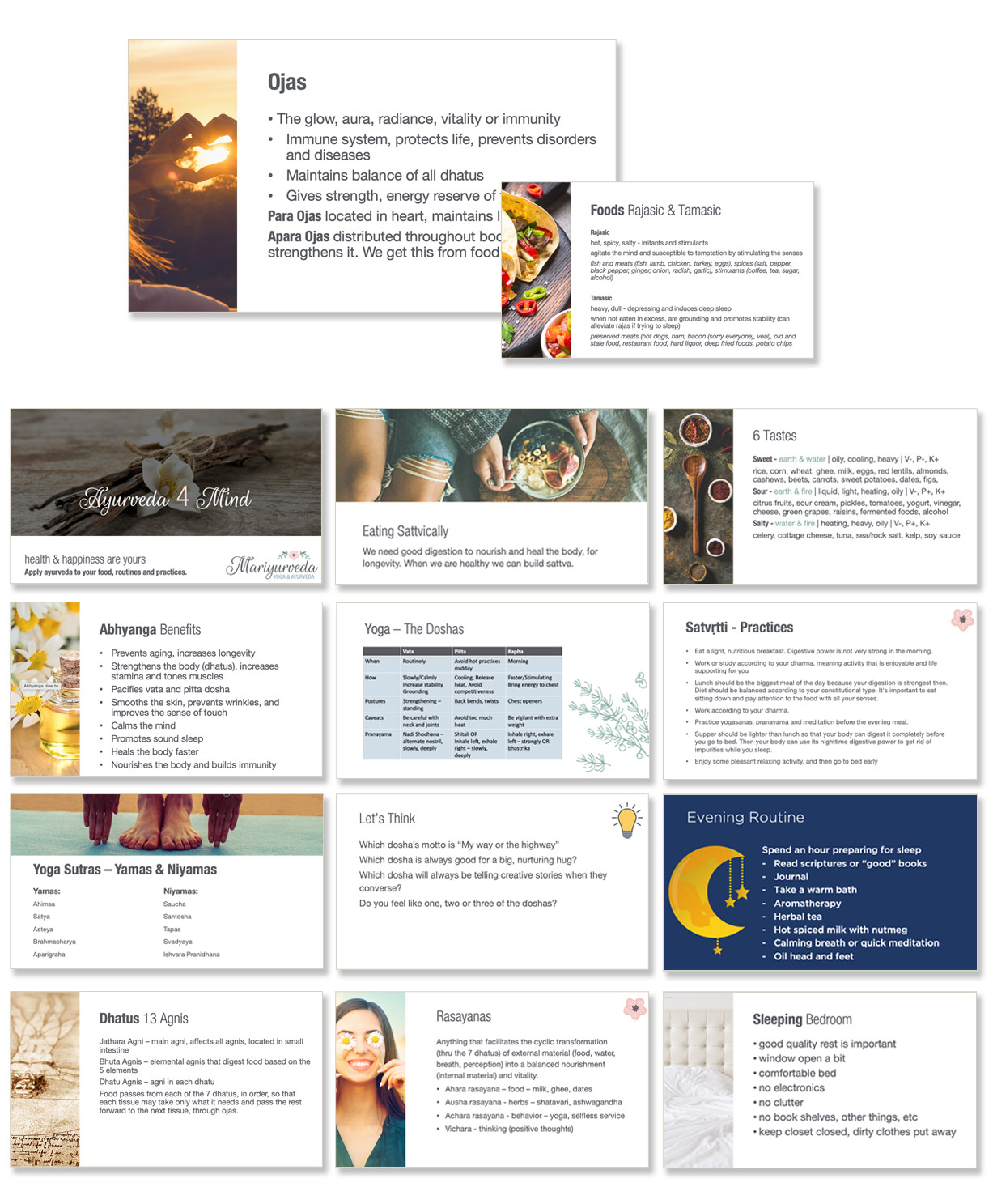 Save yourself hours of effort and headache and let us do what we do best! We have a library full of presentations that have all been tested and used in real workshops and events. They are professionally designed and written and will make offering workshops much easier!
Receive The Editable PPT File
You will receive the editable Power Point file so that you may edit and adjust it to your liking. You will also receive a PDF as a reference.
Customizations
Have your branding and messaging added to the file to make it your very own.
---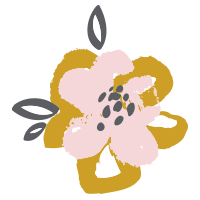 Pre-Designed Workshop Presentations and Coaching Programs for you to purchase and use with your own clients
for busy yoga & ayurveda professionals
Available Topics
Introduction to Ayurveda & the Doshas
Ayurveda Part I - Samkhya, 20 Gunas and Doshas
Ayurveda Part II - Agni, Ama and Dhatus
Ayurveda Part III - Mind & Subtle Body
Ayurveda & Dinacharya
Ayurveda for Digestion: Agni & Ama
Ayurveda for Mind - Part 1
Ayurveda for Mind - Part 2
Ayurveda & Yoga
Ritucharya for Kapha Season
Ritucharya for Pitta Season
Ritucharya for Vata Season
Ayurveda for Athletes
Ayurveda for Travel
$108 each
Be sure to include which presentation you would like to purchase when you order. Price includes: Power Point file for editing to your liking and PDF file for reference.

Group Coaching Programs
Ayurveda 12-Step Program:
Integrate Ayurveda into daily life one week/month at a time. Each step focuses on an aspect of ayurveda, such as sleep, exercise, yoga, eating, etc.)
$108
Price includes: coach's guide (Word doc), attendee workbook/journal (Word doc), PPT presentation.
Good Digestion Challenge:
A 21-day program to build ayurvedic digestive habits. The program includes simple tips for improving digestion without overwhelming the participants. Great program for New Years / January.
$108
Price includes: coach's guide (Word doc), attendee workbook/journal (PDF, not editable), digestion PPT presentation.
Price also includes 1 hour of customizations to the workbook. Upon receiving the file, please submit edits and recipes (as jpgs or pngs) and the file will be returned back to you with these included.
How it Works
Power Point (PPT) Presentations and Programs are designed packages that you receive as digital files. You will receive both the PPT file for editing to your own liking, as well as a PDF. Files will be zipped and emailed to you.
Please allow up to 2 weeks to receive the files
, although you will receive a receipt of purchase immediately. You may
request a sample slide
of your selected presentation before purchasing.
Customize you Package
Files are currently branded with the Via Maria design palette of fonts and colors, but they can be customized with your brand and design styles. For customization, please
request an estimate
, as it will vary based on the presentation you choose.
Disclaimer
Although these files have been used and tested many times, we can't anticipate how everyone's computer is set up. Files are sold as-is. Sometimes if there is a font used in the file that is not installed on your computer, it may default to something else. These files have been created on a Mac. A PDF file is provided with the package to ensure that you can see the true design of the file, and then you may troubleshoot anything that has not translated well in the PPT file.
No refunds will be given.
"Happiness is when what you think, what you say, and what you do are in harmony."