Yoga Teacher Training Manuals
We know design. We know yoga.
We have taught yoga teachers.
You can trust our experience and knowledge to authentically design and edit your yoga teacher training manual based on years of practice and training. We are confident when it comes to publishing yoga content and design. All YTT manuals include charts (such as the koshas), icons (such as chakras), yoga pose illustrations, ayurveda lists and charts, anatomy, and much more!
We speak the language of yoga.
Our experience runs deep, both in the study + practice of yoga, but also in study of sanskrit and devanagari, ayurveda, vedic philosophy and chanting. You can expect your manuals to be beautifully designed, as well as touched up with some authentic sanskrit design elements. We understand this ancient language, so both devanagari and transliteration are available in training manuals, upon your request.

We write about yoga.
You may not have time to write an entire yoga manual. No worries, we have a base manual already written for you. You may also choose additional modules to add, or include your own content in manual.

Our manual is organized and written per the outline provided by Yoga Alliance. It prioritizes postures, teaching, and anatomy.
We design for yoga.
Whether you use our base manual or write your own, trust us to design and publish your YTT manual both digitally (PDF) and in print. We help you plan, budget and produce the final manuals so they are beautiful, ready before your first day of class.
We are experienced.
We work on 200-hour yoga training programs, 300-hour yoga training programs and yoga therapy programs. We also design manuals for ayurveda schools and jyotisha programs.
---

Got Sanskrit?
We have skills.
If you are in search of the perfect manual, you have found it. Explore the possibilities!

Request any of the following features for your manuals:
Yoga Manual Design
Copywriting and/or Copyediting
Program Outline - Yoga Alliance Requirements
Charts and Icons
Sanskrit and Devanagari
Photos or Illustrations of Yoga Poses
Chants and Quotes
Additional Topics: Ayurveda, Sanskrit and Jyotisha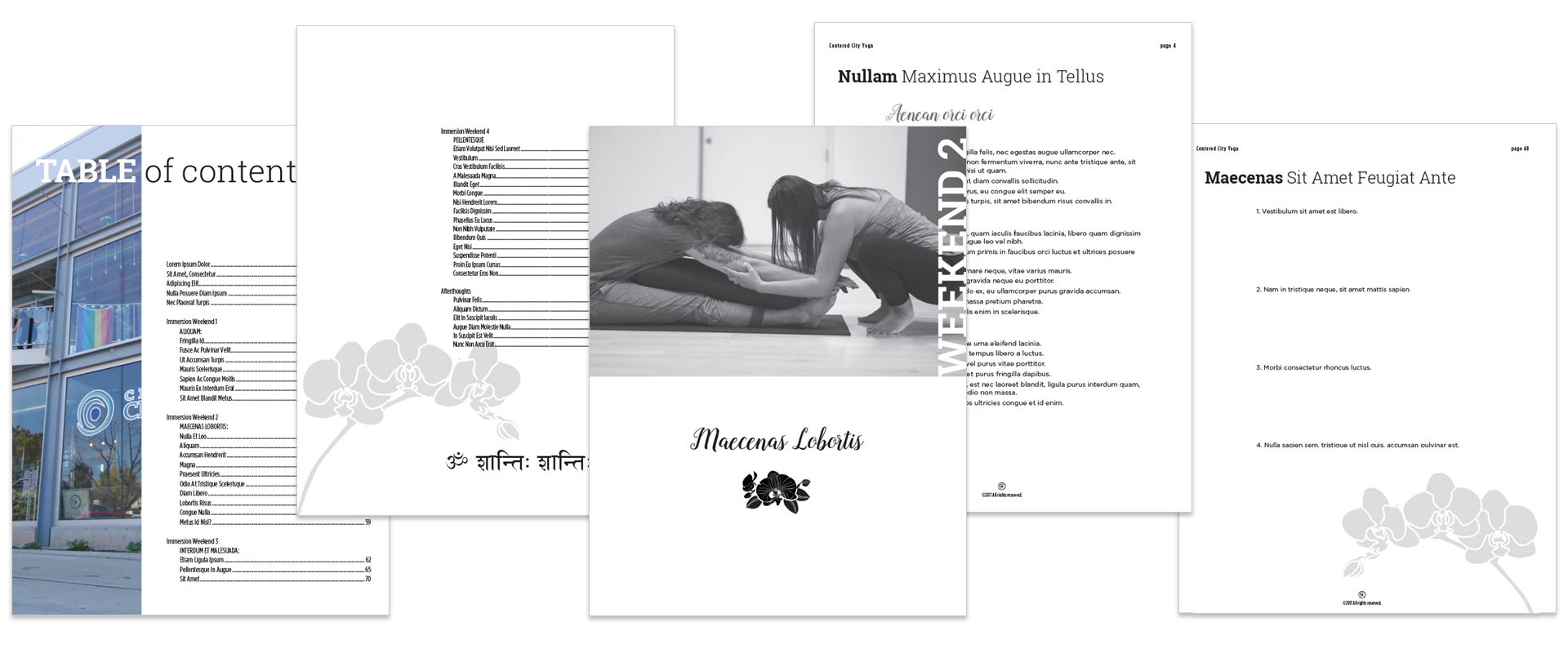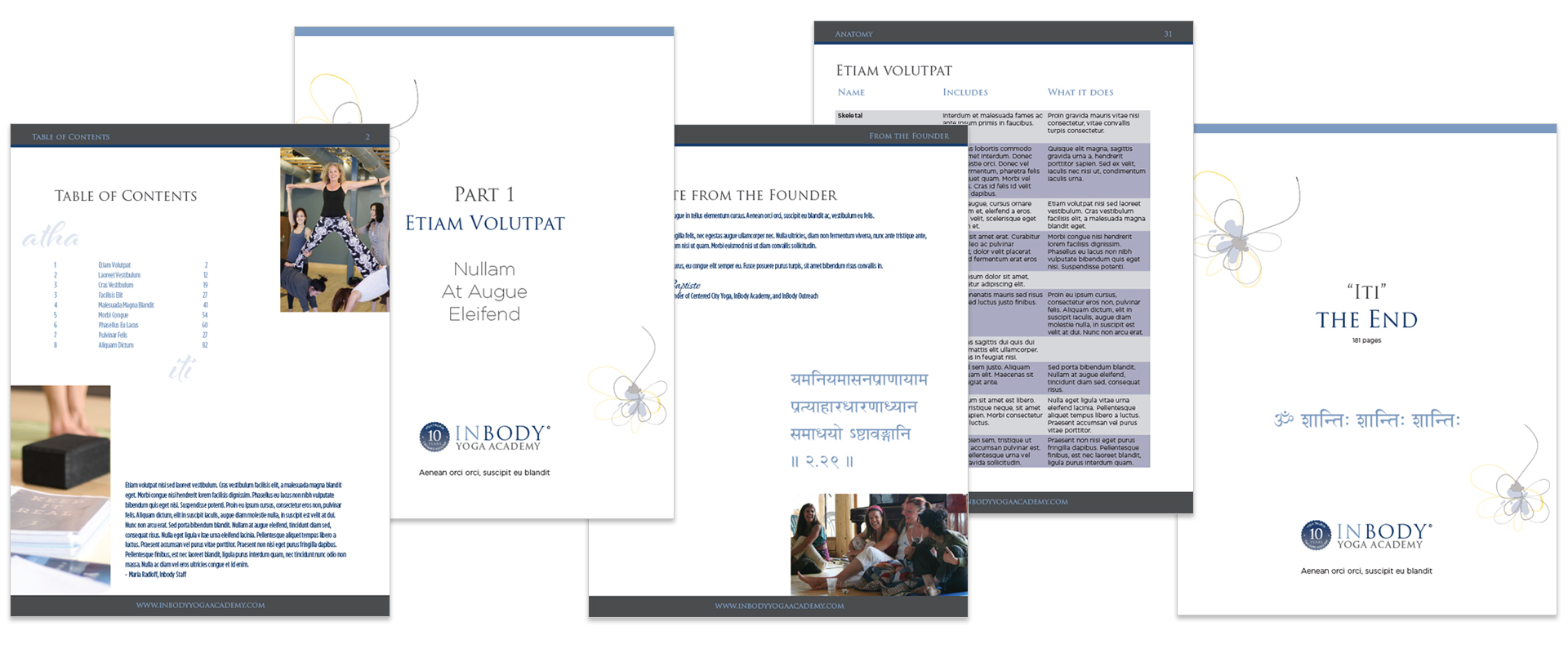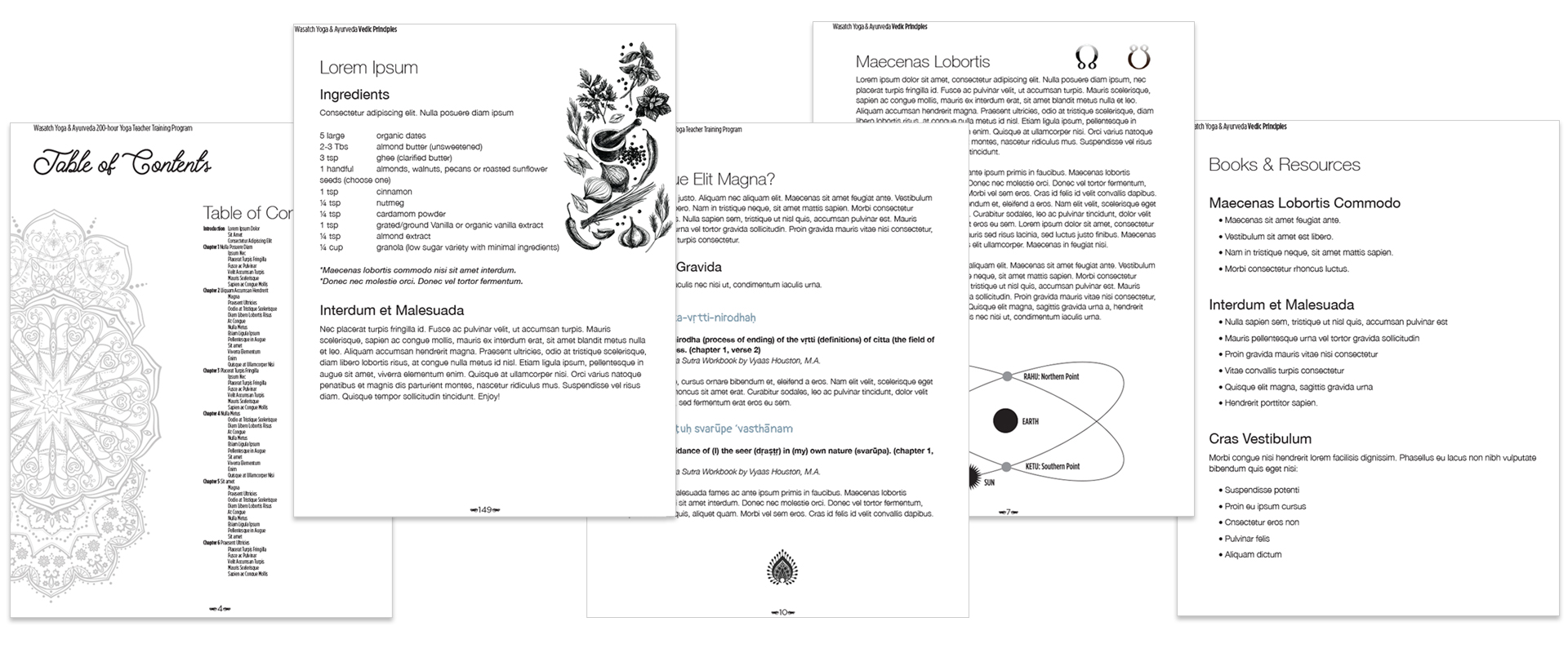 "Yoga is an internal practice. The rest is just a circus."